In the dominion of power tools, the jigsaw reigns supreme as a versatile workhorse. It conquers crosscuts, rips, straight cuts, curved cuts, bevels, and compound miters. Today, let's explore the realm of the Ridgid 18V Brushless Jigsaw (Model R86344), a tool that's caught our eye, promising a revolutionary experience.
Sale
First Impression
Straight out of the box, the Ridgid Octane exudes quality. Built with precision, it goes beyond expectations. The rubber grip adds a touch of excellence, providing a solid feel compared to some counterparts that feel plasticky. Equipped with a variety of blades and a convenient vacuum attachment for a cleaner workspace, this jigsaw sets the bar high.
| Feature | Description |
| --- | --- |
| Build | Solid construction with a reassuring rubber grip |
| Accessories | Pack of blades and vacuum attachment for versatile usage |
Ridgid Jigsaw Features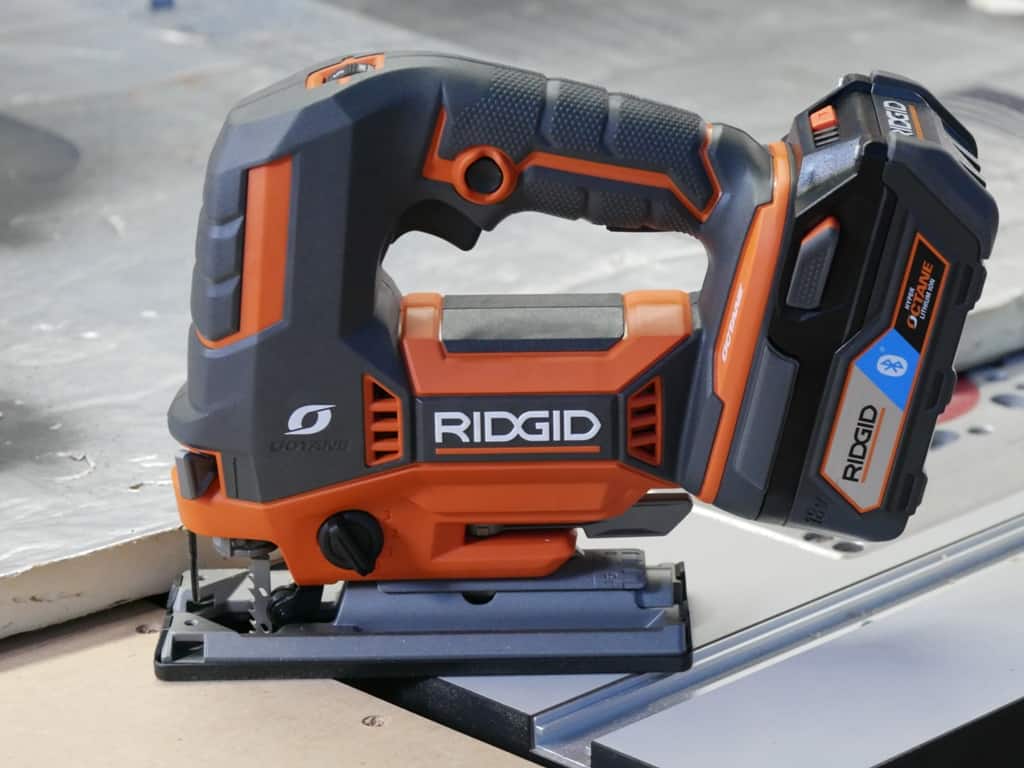 The Ridgid Octane takes functionality to the next level. With adjustable orbital action offering four settings, precision cutting becomes a breeze. The top-mounted speed-adjustment knob, coupled with a variable speed trigger, provides unparalleled control. Ideal for diverse projects, I tested it on 1x2s during a shelving unit build, and it surpassed expectations.
| Feature | Description |
| --- | --- |
| Orbital Action | 4 settings for precise cutting |
| Speed Control | Top-mounted knob and variable speed trigger for versatile usage |
Variable Cutting Speed and Modes
The R86344 boasts a variable cutting speed of up to 3,450 SPM. It doesn't stop there; a 4-mode speed selector coupled with a variable speed trigger allows you to tailor your approach. The 4 orbital modes provide a spectrum from clean cuts (minimal orbital action) to blazing speed (maximal orbital action).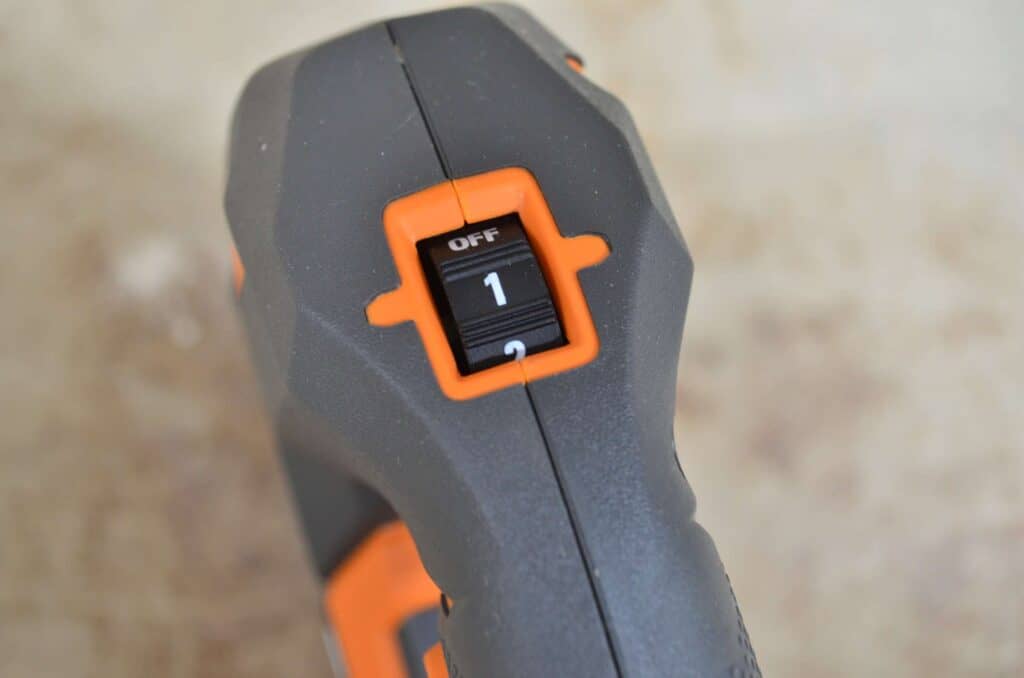 | Speed Mode | Orbital Action | Ideal Use |
| --- | --- | --- |
| 1 (Low) | Minimal | Precision and Clean Cuts |
| 2 (Medium-Low) | Low | Versatile Applications |
| 3 (Medium-High) | Moderate | Standard Cutting Tasks |
| 4 (High) | Maximal | Swift and Aggressive Cuts |
Tool-Free Convenience
Changing blades and adjusting bevels are hassle-free thanks to the tool-free mechanisms in place. Efficiency meets simplicity, allowing you to focus on the task at hand.
Ridgid Jigsaw Vibration Reduction
Ridgid takes a leap forward by claiming a 20% reduction in vibration compared to their previous model. In our hands-on testing, this reduction was palpable, contributing to a smoother and more controlled operation.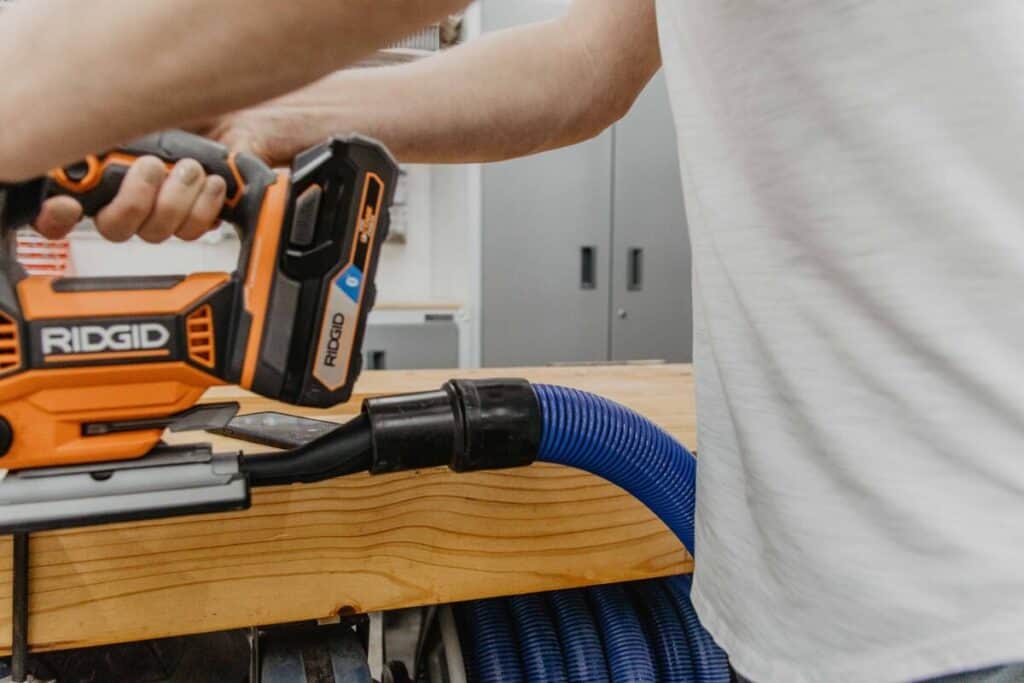 Design and Ergonomics
Let's dissect the anatomy of this precision instrument.
| Aspect | Details |
| --- | --- |
| Model | Ridgid R86344 |
| Power Source | Ridgid 18V battery |
| Weight | 4.4 lbs. (bare), 5.9 lbs. (with 4.0Ah Max Output battery) |
| Length | 8.5 in. |
| Height | 8.5 in. |
| Handle Type | D-handle |
At a mere 4.4 pounds bare and 5.9 pounds with the recommended 4.0Ah Max Output battery, the Ridgid R86344 is a lightweight powerhouse. The D-handle, draped in textured rubber overmold, provides exceptional grip during intricate cuts.
Joyful Operation
Every detail, from the tool's grip to the placement of controls, has been meticulously thought out. The vacuum attachment, seamlessly integrated, stays unobtrusive during cutting, adding to the overall joy of using this jigsaw.
Product Recommendations
Before we delve deeper, here are some essential supplies and tools that complement our everyday work around the shop:
Universal Fence Clamps
1/8″ Roundover Bit
Combination Square
Hands-On Experience
Our testing of the Ridgid 18V Brushless Jigsaw left us genuinely impressed. Whether tackling crosscuts, rips, straight cuts, or curves, this tool shines in every aspect. The versatility, coupled with ergonomic finesse, elevates the overall user experience.
Innovative Features
Bevel Adjustment
The tool-free bevel adjustment allows for pivoting up to 45° left and right, with positive stops at common angles. This, coupled with the integrated dust port and vacuum attachment, makes for a versatile and user-friendly tool.
Non-Marring Shoe Cover
The non-marring shoe cover not only protects your work surface but also cleverly accommodates two spare blades, ensuring you're always prepared for the task at hand.
Pricing and Verdict
What's the price of excellence? The Ridgid 18V Cordless Jigsaw retails for $179 as a bare tool and comes with the coveted Lifetime Service Agreement when registered within 90 days of purchase.
Frequently Asked Questions
Q: Is the blade change mechanism truly tool-free? A: Yes, changing blades is a breeze with the tool-free mechanism, enhancing efficiency.
Q: How does the vibration reduction impact real-world usage? A: The 20% reduced vibration translates to a smoother and more controlled cutting experience.
Q: Can the jigsaw handle bevel cuts effectively? A: Absolutely. The tool-free bevel adjuster ensures quick and precise adjustments for bevel cuts.
Q: What materials can the Ridgid 18V Jigsaw handle? A: From wood to metal, this jigsaw showcases its prowess across a variety of materials.
Q: Is the variable speed trigger sensitive to gradual changes? A: Yes, the variable speed trigger allows for precise adjustments, catering to the intricacies of different tasks.
Q: How does the ergonomic design contribute to user comfort? A: The tapered handle and strategically placed controls make it comfortable for users with varying hand sizes.
Q: Can the jigsaw handle aggressive cutting tasks? A: In the high-speed mode, the Ridgid jigsaw excels in swift and aggressive cutting tasks.
Q: What is the battery life like on the 18V model? A: The 18V battery provides ample power for extended usage, delivering reliable performance.
Q: Does the vacuum attachment effectively control dust? A: Yes, the well-thought-out design ensures the vacuum attachment stays out of the way while effectively managing dust.
Q: Are there any compatible accessories to enhance the jigsaw's capabilities? A: Ridgid offers a range of accessories to further expand the functionality of the 18V Brushless Jigsaw.
Conclusion
In conclusion, the Ridgid 18V Brushless Jigsaw (Model R86344) emerges as a standout player in the world of power tools. Its combination of cutting-edge features, ergonomic design, and real-world performance positions it as a top contender for both enthusiasts and professionals alike.
Sale