In the world of DIY electrical projects, having the right tools in your toolbox can make all the difference. One such essential tool that can streamline your work and ensure your safety is a voltage tester. Voltage testers are indispensable for quickly, easily, and safely checking for electrical power. They come in various types and designs, and choosing the right one for your needs can be a game-changer.
Types of Voltage Testers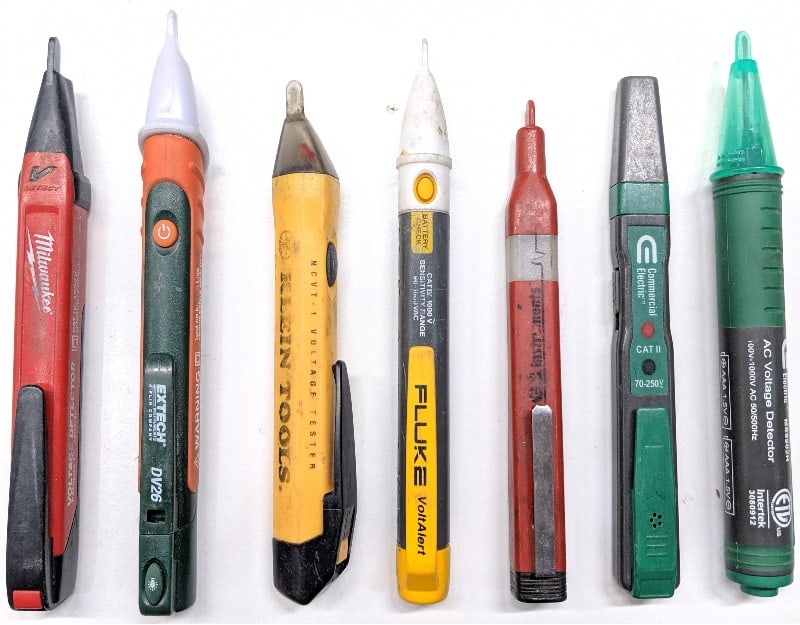 When it comes to voltage testers, there are three primary designs to choose from:
1. Pen Testers
Pen testers are compact, roughly the size and shape of a thick pen or marker. They are incredibly user-friendly; simply turn them on and touch the wire you want to test. Additionally, you can insert the tip into an outlet to check for voltage. These testers are ideal for basic household use.
2. Outlet Testers
Outlet testers are slightly larger, about the size of an electrical plug. They work by plugging directly into an outlet. They not only test for voltage but often check the outlet's polarity to ensure it's wired correctly. However, they can't test circuits outside of an outlet.
3. Multimeters with Voltage Testers
Multimeters offer the best of both worlds, but they tend to be larger compared to pen and outlet testers. They feature grooves or hooks to encircle a wire and detect voltage, along with leads for testing contacts like outlets and terminals. Multimeters are more versatile and suitable for a wide range of electrical projects.
Also read: Best Electrician Gloves
Key Considerations When Choosing a Voltage Tester
Several factors play a crucial role in selecting the right voltage tester for your needs:
1. Functionality
Voltage testers are mainly designed for checking alternating currents (AC), typical in homes and commercial buildings. They may not be suitable for detecting direct current (DC), commonly found in vehicles. Some pen testers offer extra features like flashlights, measuring lasers, and infrared thermometers, making them even more versatile.
2. Compatibility
Not all voltage testers are compatible with every electrical device. Some may have limited voltage detection ranges and may not be able to identify low voltages. If you work on electronic device repairs or vehicles, consider a multimeter with a built-in voltage tester for more comprehensive functionality.
3. Longevity
For long-term use and durability, it's essential to choose a voltage tester from trusted manufacturers in the electrical tools industry. These companies specialize in creating high-quality electrical tools that professionals trust.
Battery life is also a critical factor. Many top-notch voltage testers come with automatic shut-off functions to conserve battery power. If a tester doesn't detect voltage within a specific time frame, typically around 15 minutes, it will automatically turn off to extend the battery life.
Our Top Picks
Now that we've covered the essential factors to consider when choosing a voltage tester let's take a look at some of the best options available:
1. Fluke 1AC II Non-Contact Voltage Tester
Design: Pen Testing range: 90 to 1,000 volts
The Fluke 1AC II is a quality pen tester from a renowned name in the electrical testing industry. It can detect voltage between 90 and 1,000 volts while remaining compact and easily fitting in your tool pouch or pocket. The tester's tip glows red when it detects voltage, and it features a self-test indicator and a loud, audible beep to indicate power.
Pros:
Compact design
Self-test indicator
Audible voltage-detection alert
Automatic shut-off
Cons:
Toggling between beep and silent modes may take some getting used to
2. Klein Tools NCVT-1 Non-Contact Voltage Tester
Design: Pen Testing range: 50 to 1,000 volts
Klein Tools is a trusted name in the electrical industry, and the NCVT-1 Non-Contact Voltage Tester lives up to their legacy. It can test for voltage between 50 and 1,000 volts of alternating current. The tester features an easy-to-understand red-and-green indicator, emits a steady beep when voltage is detected, and comes with an automatic shut-off to preserve battery life.
Pros:
Easy-to-understand indicator
Steady beep on voltage detection
Automatic shut-off
Compact design
Cons:
Battery cap doesn't seal off completely
3. Sperry Instruments STK001 Non-Contact Voltage Tester
Design: Pen/Outlet Testing range: 50 to 1,000 volts
For those seeking a cost-effective option, the Sperry Instruments STK001 Non-Contact Voltage Tester is a great choice. This kit includes a pen tester and a plug-in outlet tester, offering excellent value for its price. The pen tester detects voltages between 50 and 1,000 volts and beeps loudly upon detection.
Pros:
Affordable kit with two tools
Plug-in outlet tester
Detects reversed polarities and other issues
Audible and visual indicators
Cons:
Pen tester may occasionally give false readings
4. Fluke T6-1000 Pro Electrical Tester
Design: Multimeter Testing range: Up to 1,000 volts
The Fluke T6-1000 Pro Electrical Tester is perfect for professionals who need to test wires and take measurements without disconnecting connections. This multimeter features a Field Sense setting that detects and measures voltage by sliding the testing fork over a wire. It also offers standard multimeter functions, including DC and AC measurements, resistance, and amperage.
Pros:
Measures voltage without disconnecting
Multimeter functionality
Includes holster and alligator clips
Cons:
Noncontact voltage readings may not be as accurate as standard leads
5. Klein Tools NCVT-4IR Non-Contact Voltage Tester
Design: Pen Testing range: 12 to 1,000 volts
For those working with equipment that generates heat, such as boilers and furnaces, the Klein Tools NCVT-4IR Non-Contact Voltage Tester is an excellent choice. This pen tester comes with a built-in infrared thermometer that can detect temperatures between -22 and 482 degrees Fahrenheit.
Pros:
Built-in infrared thermometer
Detects low voltages
IP54 rating for dust and water resistance
Cons:
Slightly bulkier compared to other pen testers
6. Greenlee Non-Contact Voltage Detector
Design: Pen Testing range: 50 to 1,000 volts
Greenlee's Non-Contact Voltage Detector is perfect for those who want an extra set of eyes while testing. This pen tester features a built-in flashlight to illuminate dark corners and spaces. It detects voltage between 50 and 1,000 volts AC and comes with a two-color LED system for clear indications.
Pros:
Built-in flashlight
Comfortable rubberized grip
Flashing red indicator
Automatic shut-off
Cons:
Slightly less powerful flashlight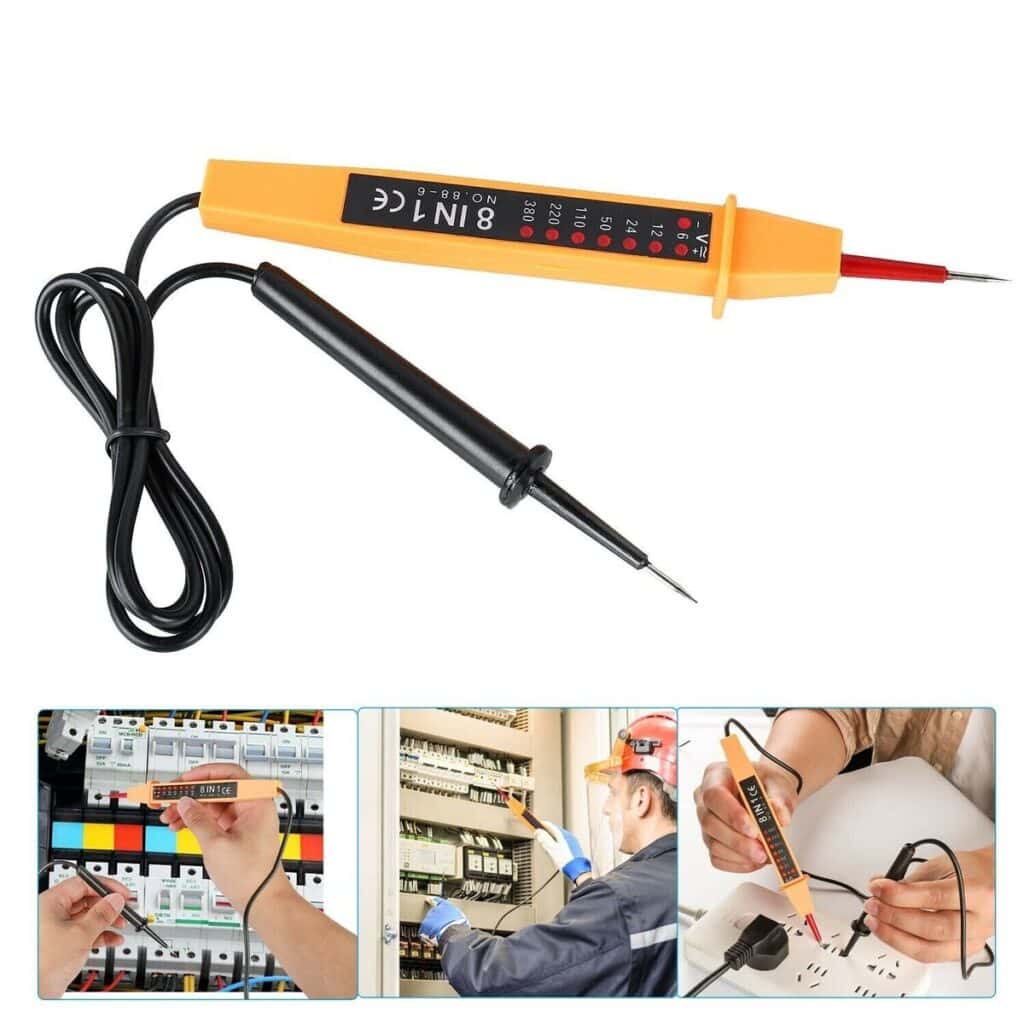 Frequently Asked Questions
What is a voltage tester, and why do I need one?

A voltage tester is a tool that allows you to check for the presence of electrical voltage in wires or outlets. It's essential for safety and to ensure that circuits are not live before working on them.

Are all voltage testers the same?

No, voltage testers come in different designs and offer varying features. The best one for you depends on your specific needs and the type of projects you'll be working on.

Can I use a voltage tester for automotive electrical work?

Most voltage testers are designed for household or commercial electrical work and may not be suitable for automotive applications. If you work on vehicles, consider a multimeter with the capability to test DC voltage.

What is the importance of automatic shut-off in a voltage tester?

Automatic shut-off helps conserve battery life by turning off the tester when it's not in use for a certain period, typically around 15 minutes. This ensures that the tester is always ready when you need it.

Do I need a voltage tester with additional features like a built-in flashlight or infrared thermometer?

The need for additional features depends on your specific requirements. These extra features can be beneficial for certain tasks, such as working in dark spaces or checking equipment temperature.

How do I choose the right voltage tester for my needs?

To choose the right voltage tester, consider the type of electrical work you'll be doing, the voltage range you need to detect, and any additional features that would make your work more efficient.

What brands are known for producing reliable voltage testers?

Trusted manufacturers in the electrical tools industry, such as Fluke, Klein Tools, and Greenlee, are known for producing high-quality voltage testers that professionals rely on.

Is a pen tester sufficient for basic household electrical work?

Yes, a pen tester is suitable for most basic household electrical tasks, such as checking outlets and switches. It's compact and easy to use, making it a convenient choice.

Can a voltage tester help identify specific electrical issues, such as reversed polarity?

Some voltage testers, especially outlet testers, can detect issues like reversed polarity, open grounds, open neutrals, and open hots in addition to voltage presence.

What should I look for in a voltage tester's build quality for long-term use?

Look for voltage testers from trusted manufacturers that specialize in electrical tools. They are more likely to be durable and built to last. Consider features like a secure battery compartment and materials that resist dust and water penetration.
Conclusion
Choosing the best voltage tester is crucial for your electrical projects. Consider your specific needs, the type of work you'll be doing, and any additional features that can make your tasks more efficient and safe. The right voltage tester will not only streamline your work but also ensure your safety as you handle electrical circuits and devices.